The 70:20:10 Expert programme
At the moment we are only doing incompany Expert Programmes
Many L&D professionals are already using 70:20:10 and the Expert Programme reflects this fact. You'll be expected to work on a case study of your own to develop the services you provide and to prepare for the future of L&D by:
Working in a group and drawing directly on the body of 70:20:10 knowledge developed.
Actively using the book on which the programme is based –  70:20:10 towards 100% performance.
Exploring 70:20:10 by using a case study from your own workplace.
Using online 70 and 20 tools and solutions to implement the five new roles.
Helping your L&D department to continue developing its services and transforming to exploit, and comply with, 70:20:10.
ALUMNI
For people who want to become a 70:20:10 expert
L&D professionals around the world are embracing 70:20:10 to help expand the range of services they offer and connect directly with their organisations' core businesses. 70:20:10 provides a concrete opportunity to make these services relevant and up-to-date by ensuring they enable learning and performing at the speed of business. In a changing world 70:20:10 is creating a new future for L&D and helping ensure the profession stays ahead of the game.
The benefits
Become a 70:20:10 expert and execute the five new roles: Performance Detective, Architect, Master Builder, Game Changer and Tracker.
Earn a rapid return on your investment in the programme by making a positive business case for 70:20:10 compared to traditional training.
Achieve measurable results for your organisation by using 70:20:10 performance projects, including business cases.
Contribute to your organisation's goals and increase the profile of the L&D department.
Receive a certificate of attendance from the 70:20:10 Institute.
Minimise learning-related absence costs by working on projects from your own L&D agenda.
Gain unique insights into the experience of working and learning with 70:20:10. There's no better way of keeping your skills as a L&D professional relevant and up-to-date.
Two parts of 2,5 days

3,900 per participant
12-25 participants
Certified
Programme outlines
The five roles of the 70:20:10 Expert are the central focus of the programme. You'll work on the critical tasks for each role and have a chance to carry these out yourself at least once.
The programme lasts six months but you can continue developing and presenting your own cases after it's over.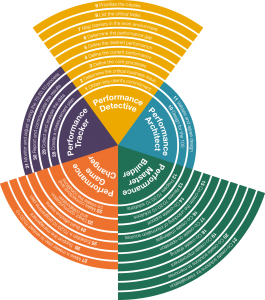 Costs
The cost per participant is €3,900. This excludes VAT and travel, accommodation and optional performance consultancy vouchers for online advice on your case study.
Materials
The book '702010 towards 100% performance' (included);
The online community of the international 70:20:10 Institute (access included).