THE CHALLENGE
Accelerate the capability building of Learning Leaders and their L&D teams to meet the rapidly changing needs of their organizations.
Business transformation is underway in most industries with new technologies and service models, disruptive competition, global communications and ever-changing customer expectations.
L&D needs to move at the speed of business to deliver relevant solutions focused on improving performance and delivering results in the most cost-effective manner available.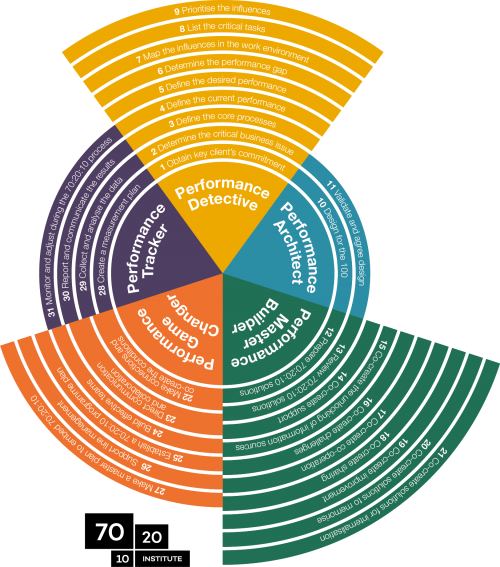 OUR SOLUTION
Value-based L&D begins with Five New Roles
The 70:20:10 Institute offers the 70:20:10 Expert Program to equip learning professionals with new skills and strategies to solve performance challenges in partnership with their business clients. The Expert Program, can be delivered on-site or virtually in a flexible format that meets your team's needs.
It introduces the Five New L&D Roles in an extended learning experience with immediate application on the job. The learning campaign includes two facilitated sessions, virtual coaching, and participant practice of the roles through a work project.
It is a mindset, so you don't do that today or in three weeks. You do that continuously. The way in which the institute has influenced our learning trajectory is by employing a systemic approach that actually maximizes the practicality of a complex set of information.
The main eye-opener for me was that the world is bigger than e-learning and that the focus no longer comes from education, but more from a business approach. The methodology has enabled me to look further and, in this way, demonstrate immediate impact and spend my budget smarter.
70:20:10 has helped me and my team became more relevant to the organization. As a L&D department, we could finally prove our added value by contributing precisely to employee performance. The methodology has provided us with meaningful measurable data to indicate the business problem and create valuable solutions.
As a learning professional, 702010 has connected me much better to the real organizational needs. In this way I have learned to shake off my classical learning repertoire and start with what really works. I am now confident to step into the workplace a lot more and act and advise from that place. I think that is the great added value.
For me, 70:20:10 was the missing link between working with people towards developing an innovative problem-solving approach and implementing it.
It wasn't a perspective that I have not seen or heard about, but it was a much more structured and practical approach. Easy to understand and visually pleasing. It has given me and my organization an impulse to step out of the training bubble and deliver performance support through critical analysis and systematic work.
THE RESULTS
The Expert Programme reinforces the open collaboration between L&D Professionals and their internal clients to co-create solutions that have measurable impact.
The result that the internal customer needs to achieve is always paramount:
Sales growth
Error reduction
Productivity increase
Improved customer satisfaction
Lower rates of non-compliance incidents
Reduced absenteeism
Lower employee attrition rates
Faster on-boarding and reduced time to performance